Company History
The haulage business was started back in 1967 and expanded to not only provide feed to farmers but to transporting coal. The association with coal continued with the purchase of plant to work specifically in local opencast mines.

The road haulage business has grown over the years and the fleet has changed to keep pace with changing styles and types of truck.
At the end of 2009 we purchased another transport company and this expanded the fleet to its current size.
The current fleet of 70 Volvo's runs the length and breadth of the UK, hauling a variety of bulk cargo, including coal, grain and fertilisers. New additions to the fleet are bulk tankers, which carry powder products throughout the UK. The fleet operates a fuel-efficient system to help reduce pollution and reduce running costs, reducing our fleet's impact on the environment.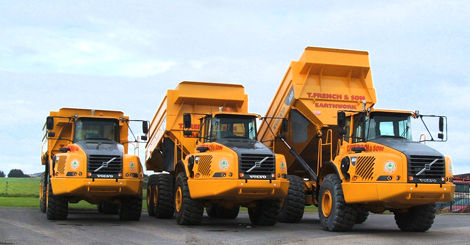 The road haulage fleet is supported by a 24-hour workshop with a team of 10 mechanics and the transport team who plan the routes.

Photos
Click to view enlargement
Questions?
If you have any questions, anything at all we are here to help. Please call us on 01290 425164 or
drop us an email
.